Green campaigners accuse Doncaster Council of going back on their word after tree-felling incident in Cantley.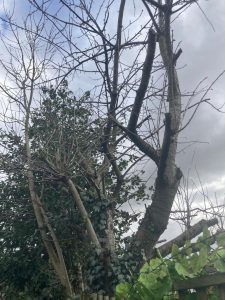 Campaigner Kate Needham says that she received a call from a resident in Cantley that workmen were chopping the cherry tree down close by her house on Willow Avenue - contrary to the new street tree policy.
The new tree policy was agreed following protests about the unnecessary felling of 64 trees in Middlefield Road in Bessacarr.
Kate Needham said, "When challenged, the workmen stopped the felling and began pruning nearby instead but I contacted DMBC to remind them they had agreed that the public are supposed to be notified and a thorough investigation should be carried out before trees are felled."
"I have now been told that the original reason for felling the trees had already been resolved so the planned felling is completely unnecessary.
"It is becoming clear that there is dysfunction at the heart of the Doncaster Council tree team where new policy and ways of working are not being effectively relayed to the workforce."
Last month, Doncaster Council released a statement to the press saying that has committed to the principle of "minimal tree removal" as a last resort and where no alternative solution can be found.
Green Party Mayoral Candidate, Warren Draper said,
"Street trees are valued by local residents and play an important part in protecting our local environment. They provide homes to birds and their removal as we approach Spring is particularly problematic during breeding season.
"You would expect that with all the negative attention regarding the unnecessary felling of street trees in Bessacarr and the fact that they have made such a big deal of their new policy that the council would be trying to get things right.
"Is it any wonder that trust in our elected politicians is so low when one minute the Council is saying one thing, then when they think no one is looking they do another."