Green campaigners have warned Bradford Council to rethink plans to allocate large areas of the Tong Valley for housing following flooding downstream in Pudsey and Wortley.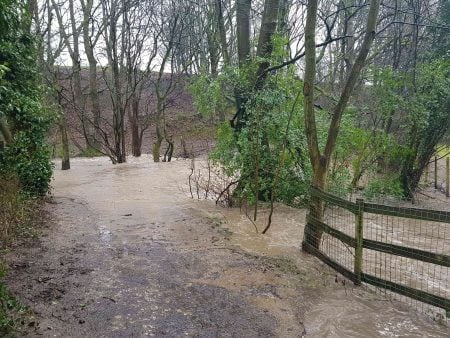 Over the weekend, flood warnings were in place at Pudsey Beck where water levels have risen as a result of the recent persistent rainfall. In Wortley, the lower ring road also flooded due to the heavy rainfall.
Photographs from local residents showed that the network of becks that run through the valley all burst their banks on Saturday.
Councillor Ann Forsaith (Farnley & Wortley Ward – Leeds) said "It's really worrying to see our communities in West Leeds experiencing flooding this weekend, and more people being put at risk of flooding in the future.
"We are seeing more and more, 'freak' weather leading to flooding in our communities and we need to face facts that this is being driven by choices being made locally – from planning decisions to cuts to local services like drainage.
"Our green spaces act as an important natural defence as rain water is soaked in and takes longer to enter water courses. But when you build on these green spaces, rain is able to get into the waterways quicker which leads to flooding.
On Monday (7th February), Bradford Council will start a public consultation on its Local Plan. The current draft proposal includes 325 housing sites with 21% being within the Green Belt. The draft highlights the Tong Valley and Holmewood as being a particular focus area with 2,200 houses being suggested for the area.
Matt Edwards, Green Party community campaigner for Tong Ward added, "There is already a long list of reasons why the Tong Valley is not a suitable place to build 2,200 houses – and the associated link road - and what happened this weekend perfectly demonstrates one of them.
"We can't just keep building more without any regard for our local environment. The Tong Valley is the last area of Green space between Bradford and Leeds and it acts as an important defence for flooding for Wortley and Pudsey.
"It is clear that Bradford Council hasn't fully grasped the reality of the climate change we're already experiencing locally. Big changes need to be made in the way we plan for the future and we can't just keep carrying on the way we have been.
"Instead of trying to build on green spaces, we should be looking at ways to protect this area for future generations."